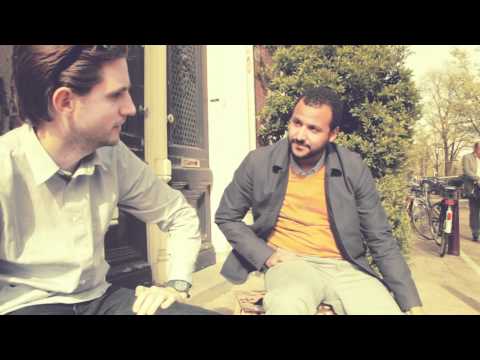 Ever since I first came across his blog back in 2009, I always wanted to sit down with Nalden and see what the driving force behind the 'Donald Trump' of the Internet. Why Donald Trump you may ask? It isn't that he has made millions yet, but like Trump, Nalden does what he believes in, but has also come across a lot of criticism in the choices he has made along the way.
Starting almost 10 years ago as a blog purely for his friends, Nalden slowly grew bigger, gaining popularity along the way. For about 2 years now, Nalden has redefined what blogging is all about, and made it into a financially viable business. Together with Momkai, he created 'Wallpaper Advertising' for his site. It wasn't that it was a new idea, but he saw the power of full screen images and molded it into a form that works for him, his audience, and the brands.
But after being on Dutch television twice, and numerous events, Nalden feels like things have just gotten started, having fun on his digital playground.  He has however vowed to always keep what he does close to himself, sharing his passion with others, while creating businesses that can grow and make money. It is this, the making money, which has also created an anti-Nalden view amongst a group on- & offline.
"If people don't like that I am making money by what I love, they need to reconsider their own life. It has nothing to do with me, but is about me making a living in what I am passionate about."
And that is exactly what Nalden keeps pointing out. His blog did start out as a fun little experiment, but has grown to enable him to become an entrepreneur. He is the kind of guy that likes to help people, but at the same time find opportunities to make money. This combination is very evident through his blog, and has now continued to his next venture, WeTransfer.com, which he started up with Bas Beerens. This, in my opinion, is the contradiction. Those who are spreading the anti-Nalden sentiment are also those who use WeTransfer and love it.
This is what drives Nalden; the constant criticism keeps him on top of his game. It gives him the drive to create new services and spread the world about what he sees is true inspiration.
"I am addicted to interaction. And especially the reaction."
For Nalden, his blog will always remain a place where he shares the things he finds. It is the motivation to stay curious, otherwise he feels that he could just as well become a manager. His site is his drug.
The criticism extends to people calling Nalden a 'sell out', who just posts about products and brands he gets paid for.
"Now a days everyone is selling out. They are promoting themselves through social media and Internet. Ego is a big thing."
As he points out, Internet helps make money for those with a talent, they get paid for what they do and love. This is seen as selling out, but the criticism comes from those who don't have the talent. It is all about Commercial Creativity.
"Selling out is the new keeping it real." – Patrick Martinez
This Commercial Creativity is what Nalden has been concentrating on for the past few years, educating the media agencies and brands in the power of Wallpaper advertising.
And with his next venture, KUVVA, Nalden hopes to use his learning from Nalden.net and WeTransfer.com to build a platform that facilitates in both wishes. On the one side, facilitating imagery in wallpapers, letting the user sync their chosen wallpaper over various devices and social network.
Secondly, KUVVA will concentrate on Wallpaper Advertising, enabling startups and blogger to create a business model around this. Nalden points out," I started with wallpaper advertising as a different option than banners. Banners screw up the design and mostly are overlooked. I integrated it into my website, giving the brands the opportunity to become visibly part of my world."
With KUVVA, Nalden will aim for the individuals who don't know how to make money with their platform, especially those who prefer something more premium. On the long run he even sees Twitter implement it.
This is exactly who Nalden is. It is a person who always thrives for the best, but is never satisfied. I must admit I did have my doubts about the 'realness' of Nalden, but after spending the afternoon with him, it was clear that he is just a young man with a passion to create. He is no different from you and me; he loves football and would have surely become a pro footballer if the Internet didn't exist.
With his growth in popularity, Nalden still can't grasp where he has gotten; walking in San Francisco, being recognized by a passer-by and constantly receiving products to blog about for the past years. In the end Nalden is one of the few young entrepreneurs who enjoys what he does. Business for Nalden is different, it is about reaching the unreachable.
" I would love to go to space as a joke. What Richard Branson is doing is awesome. Next level. Looking at it from a business point of view, if extraterrestrial life is out there, it means a bigger market!"
In the end, Nalden is just out to share what he is passionate about, be it an artist, brand or one of his businesses. He always goes 100% for it, and can make a living from that. So if you can't appreciate that, there is one simple answer to that, switch off your computer!